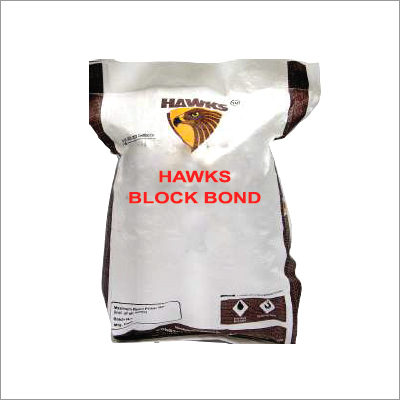 Block Bond Mortar
Product Description
We are putting forward a world-class Block Bond Mortar to various clients. This kind of mortar is particularly formulated for providing stronger, much more stable bonding between the blocks with outstanding adhesive strength. It is formulated and processed by adroit personnel with the use of superior quality chemical compounds and avant-garde methodology to make its bonding strength and durable great. Easy to apply and reliable, the Block Bond Mortar can be availed in multiple packaging options to select from.

Hawks BLOCK MORTAR is a factory prepared blend of selected Raw materials, Portland cement and graded aggregates and polymer. Designed for use with water to produce high strength Thyrotrophic mortar for laying aerated light weight concrete ash Bricks, Cement hollow Blocks Cellular concrete blocks or smoothing over the block work surface in layers of up to 12mm thickness that meet and exceed the requirement of National and International standards.
ADVANTAGES : Long working time No curing required after Block work is done improved adhesion between two Blocks fast & economical.
AREAS OF APPLICATION : For Interior & Exterior use for preparing thin bed Block mortar for Aerated Light weight Concrete and Blocks.

SURFACE PREPARATION :
If a plaster/Leveling mortar bed is applied ensure that it is cured for at least 7 days to achieve proper strength before application of adhesive for construction of Block work.
Ensure the substrates in clean and free from imperators like dust, dirt, debris, Oil, grease curing agent, Paints and Loose plaster etc.
Dampen the Surface before application of defensive.
Clean back of block for any dust or coating.
MIXING : The product can be mixed by hand or slow speed electric drill mixer (Less than 300 RPM) Pour water in a clean container & then add the powder until the mixture becomes creamy and plastic. Do mot over mix. Leave the mix to slake for 5-10 min and remix before use. Mix only sufficient quantity of adhesive for immediate need.
ADVANTAGES :
Thin Bed mortar for laying Blocks : Before placing mortar, ensure the Block work to be dry properly place the mixed mortar on the block work in thin layers of 2 to 3 mm (or as required by engineers at site) using trowel and place the next Layer of Blocks on the mortar. Keep Joints between the Blocks as required by the site engineers and fill the Joints with the mixed mortar using a trowel.
AS Adhesive to Install tiles:
HAWKS BLOCK MORTAR can be used a thinnest adhesive to install tiles/stones on light weight Block/ Fly ash brick walls. Use a suitable trowel to achieve desired thickness of adhesive for installation of tiles / stones on the wall.
PACKING : 40 Kg.
SHELF LIFE : 1 Yrs.