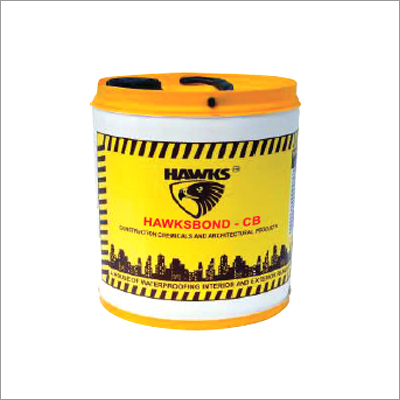 CB Cementation Bonding Agent
Product Description
Strong & Durable Cementations Bonding Agent we offer is a kind of adhesion and sealant used for fixing or bonding tiles, refractory concrete, refractory bricks, and fire clays. Owing to its quick bonding, great adhesion strength and purity, this is highly recommended by masons to their customers, who don't want to spend times to maintain such surface. The Strong & Durable Cementations Bonding Agent is composed by a seasoned professionals utilizing selected quality compounds, by complying the quality guidelines set by the industry.


HAWKSBOND - CB : Strong & Durable Cementations Bonding agent for concrete to concrete.
ADVANTAGES : Surface must be clean, free of dust, loose particles etc, & made as tough as possible. Apply this prepared solution generously with brush or pour over the old concrete surface and immediately place new concrete / mortar on wet condition such as patching damaged concrete, filling up potholes, cracks, crevices etc. for better adherence & impermeability of cement plaster over brick work etc. Concrete to concrete for old & new concrete as a bonding agent.
DOSAGE : 1 Ltr. Sufficient for around 10 to 123q. mt. surface.
PACKING : 10 & 20 Lit.
SHELF LIFE : 2 Yrs.