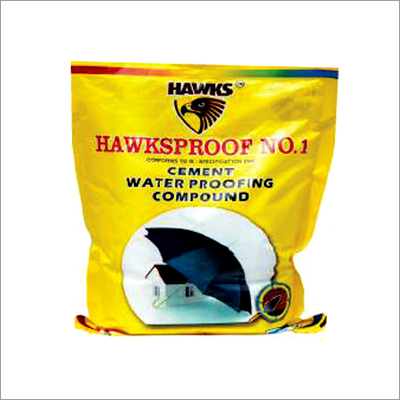 Cement Waterproofing Compound
Product Description
Cement Waterproofing Compound that brought forward by us is precisely formulated to make waterproofing of various concrete surfaces outstanding. Such compound does not penetrate any kind of moisture or water content into the surface because of its superior strength, adhesiveness, outstanding performance & effectiveness. Approved formula and graded chemical ingredients are utilized while composing this product that guarantee precise pH value, high strength and longer working life. The Concrete Waterproofing Compound is packed into varied weights packaging options to opt from.

HAWKSGUARD-500 : Liquid Concentrated Micronized Cement Waterproofing Compound (Complies with ISZG45-2003)
ADVANTAGES : In addition to the advantages of HAWKSROOF NO.1 it provides around 6000 millions insoluble water repellent/ hydrophobic particles of 20 micron mean diameter, capable of providing a secure water repellency on the surface of capillary channels/ voids/pores as well as blocking the same in cement/concrete with excellent bonding adhesion.
WHERE TO USE : Recommended for concrete/mortar of Terrace, Sloped roofs, Bathrooms, Toilets, Swimming pools, Reservoirs, Tanks, Dams etc. Excellent admixture for free flow grouting.
DOSAGE : 500ml per Bag of 50kg. Cement
PACKING : 10 & 20 Ltr.
SHELF LIFE : 2 Yrs