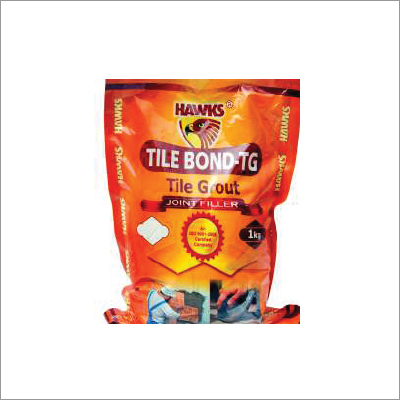 Colored Tile Joint Filler
Product Description
Colored Tile Joint Filler that we are putting forward is designed for increasing appearance and fineness of tilled walls and floors. This type of filler effectively fills the gaps between your tiled surface due to its excellent joining strength and optimum quality compounds. Easy to apply and has great shelf life, the offered product is ideal to be used in swimming pools, shower stalls, kitchens, bathrooms and other applications. Composed of graded chemical compound, the Colored Tile Joint Filler comes in the collection of attractive colours to choose from.

ADVANTAGES : TILEBOND-TG is a rich blend of powder polymers & viscosity modifiers, water-proofing additives & white cement with Hi-quality pigments provides excellent bonding to tiles for interior or exterior application including swimming pools. Single Component, Excellent bonding to Tiles, Waterproof does not allow to penetrate, No peeling & Cracks Joints up to 5mm wide can be filled. Filing of Joints (Horizontal of Vertical) between tiles, Swimming Pools Joints, bathrooms & Toilets Joints. A minimum time of 24 hours after fixing tiles, Saturate the Joints with water, then clean with a hard bristles rush or a coir brush to remove any loose materials.
DOSAGE : 4 - 4.5 sqm/kg of 150mm x 150mm tile size mix 1 part water with 4 part powder.
PACKING : 1 kg & 500 gm
SHELF LIFE : 1 Yrs.