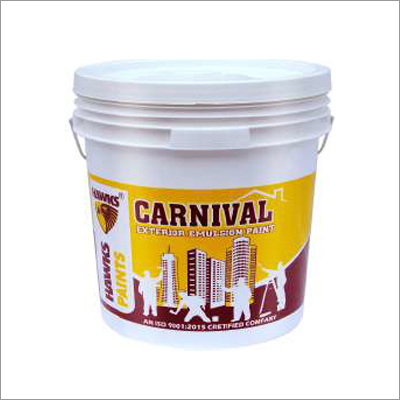 Exterior Emulsion Paint
Product Description
Exterior Emulsion Paint that we offer is formulated for providing extreme protection to exterior from adverse weather conditions. It is processed by expert personnel using chemical compounds of top grade and along with progressive techniques to make it highly effective and stability. This can be applied on wall of different kind by mixing water with the help of rollers, brushes and spraying guns as well. Comes in multiple shades and amount packaging options, the Exterior Emulsion Paint lasts for many years after applying on wall.
HYDROSEAL : Exterior Emulsion Paint
HYDROSEAL is an acrylic based highly elastomeric paint. After drying it forms a film of exceptional strength and flexibility that prevents peeling. Fungal/algae growth. Future cracks and water seepage. HYDROSEAL bridges smaller cracks effectively and it is UV resistant with wide array of shades that encapsulates color to beautify building structure exterior as well as interiors.
Features / Advantages :
Posses' elongation properties to bridge existing smaller cracks & prevents future cracks cracks with absolute finality.
Remarkable elasticity and resilience for substrate's thermal expansion & contraction.
Optimized rheology for high film build.
Breathe ability for preventing moisture in walls.
Excellent Alkali, Flaking & Chalking resistance
UV resistance for outstanding durability available.
APPLICATIONS : HYDROSEAL can be applied by airless spray, roller or brush. Apply is'coat without dilution of water. Allow to dry for minimum 5 hrs. Apply 2nd coat without dilution of water.
EXTREME PROTECTION : Protection form nature and water leakage. It has scratch, abrasion resistance, High grip & bonding property, Weathering-Extreme climate conditions of monsoons heat & cold fail to affect an HYDROSEAL Painted surface. HYDROSEAL in fully protected against UV degradation.
DIRECTION FOR USE : The performance of the product is directly related to the adequate surface preparation application instructions prescribed make the surface. Clean & free from loose or poorly bonded materials any growth of moss, algae or fungus by various wire brushing. Wash the surface with clean water. Horizontal areas like top of awnings, parapets, Sunshades, where water normally accumulates or ponds should be well repaired to prevent such accumulation. Any damage in the structure, cracks or voids which may cause water penetration should be repaired before application. Large voids or cracks should be filled or repaired with White Cement and fine sand (in the ration of 1:3) for small cracks or voids, use HAWKSEAL-KS or HAWKSEAL-SUPER.
COVERAGE : Coverage area us 4-5 sq. meter per lit for a two coats finish, depending on surface conditions a various according to texture suction or porosity to methods of application. Horizontal surface like awnings, parapets & sun sheds should be painted with additional coat for ideal protection.
WATER DIULATION : Not recommended for waterproofing coating. However 30-40% water can be added for normal coating.