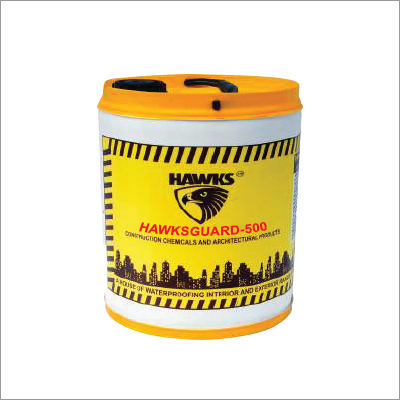 Guard 500 Waterproofing Chemical
Product Description
HAWKSPROOF NO. 1 : (Complies with IS 2645 2003) (Powder Form)
ADVANTAGES : To reduce permeability of concrete & mortar, to achieve Excellent Waterproofing performance, appreciable improvement in workability, Cohesiveness & plasticity of the mix, Reduces water cement ratio.
WHERE TO USE : Ideal to use as waterproofing admixture for Roof slabs, Sloped roofs, Swimming pools, Toilets, Bathrooms, Reservoirs, Water Tanks, Dams etc.
DOSAGE : 1Kg. per Bag of 50 Kg. Cement.
PACKING : 1 & 25Kg.
SHELF LIFE : 2 Yrs.