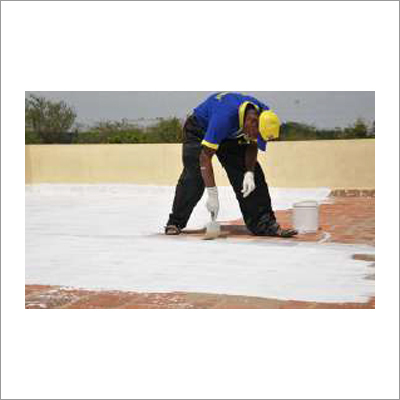 Liquid Waterproof Membrane Coating
Product Description
Liquid Waterproof Membrane Coating offered by us is a kind of non toxic & non flammable chemical that is suitable to be applied on concreted surface, floor, terrace, and several other applications. Such coating is very effective and long-lasting enough to prevent moisture, water, and so on. It is totally environment friendly, and has purity, precise pH value & good shelf life, as it is manufactured from top-of-the-line chemical compound with progressive methodology. The Liquid Waterproof Membrane Coating is provided in sealed packaging of varied quantities for the selection of patrons.

Hydroseal is a fiber reinforced Elastomeric liquid applied waterproofing Membrane. It is formulated with selected Elastomeric and resilient acrylic polymers and reinforcing polyester Fibers. Upon curing, it forms a thick, seamless, durable membrane thus offering ultimate waterproofing
BENEFIT :
Waterproofing Protection of up to 7 bars Hydrostatics Pressure.
Re-in forced with Polyester fibers for superior abrasion resistance.
Single pack easy to apply and simple recoating.
Un matched Crack Bridging ability due to elastomeric Properties.
Strong adhesion to masonry substrates.
Reduces carbon dioxide & chloride ion diffusion thus protecting rebar against corrosion.
Technical Information :
Form: Ready to use viscous liquid.
Density - 1.25
Application Temperatures: 5°C to 35° c.
Shelf Life: 3 Years
Precaution :

Do not apply during rains or extreme temperature.
Avoid abuse which may lead to the membrane getting punctured.
Ensure that the Product is applied at least 6 inches inside the drain pipe.
For best results, apply parapet to parapet there by enveloping the entire Building
COVERAGE : On RCC or plaster using brush or Roller 10 sq.feet/Lit on terraces. 20-25 sq.ft/Lit on Vertical Parapet walls.
PACKING : 20 Lit, 10, 4 & 1 Lit.