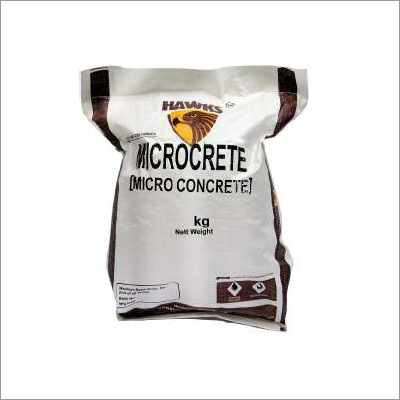 Micro Concrete
Product Description
Structural Polymer - Micro-concrete is cement based coating. This is applied thinly for varied type of surfaces, and can also be utilized for woods and tiles due to its high opacity, Eco-friendliness, precise composition, and rust proof nature. Ideal for repairing damaged beams & columns, it provides superior appearance and feel of concrete. Such product requires a little water to form great strength concrete. Easy to apply and highly stable, the Structural Polymer - Micro-concrete can be acquired in several packaging at moderate prices.

ADVANTAGES : It is ready to use at site. Only water has to be added at site. It gives an economical and highly durable repair mortar. Excellent workability & hence can be pumped/poured in to restricted locations. Free flow & hence does not required vibration.
It is non-shrink, which is a basic requirement of a mortar. It gives improved impermeability and high ultimate strength.
The areas of application. Maintenance and repair works in situations where access is restricted or vibration of the placed material, such as concrete Cqum ,beam, roof etc. is difficult or impossible. Repair of all damaged structural concrete members, reinforced and Pre stressed beams under normal beams or eccentric loads, like ceiling, bridges, slabs etc.
DOSAGE : 25 kg. has a yield of 12.5 liter of micro concrete. 80 bags of structural Polymer is required for filling 1m of volume
PACKING : 25 kg.
SHELF LIFE : 6 month