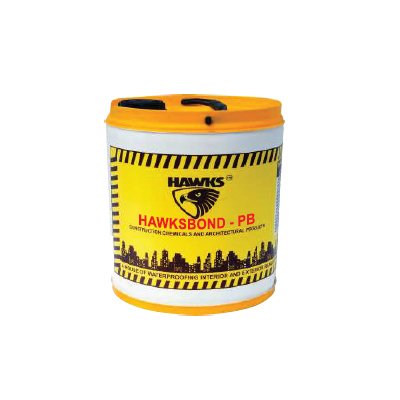 PB Acrylic Emulsion Modified Concrete Bonding Agent
Product Description
HAWKSBOND - PB : Acrylic Emulsion Modified Concrete Bonding Agent.
ADVANTAGES : It has excellent adhesive strength to concrete / steel. Can be applied to dry and damp surface. Protects the reinforcement, Ideal to use for bonding old & new concrete/mortar. Can be mixed with cement mortar/concrete to become impermeable to water, for plastering, bonding mortar for filling blow-holes, repair works, floor screeds, patch work etc.
DOSAGE : Mixing with 1:1 ration of cement 50Sft. Per Lit /Coat depending on the substrate.
PACKING : 10 & 20 Lit.
SHELF LIFE : 2 Yrs.