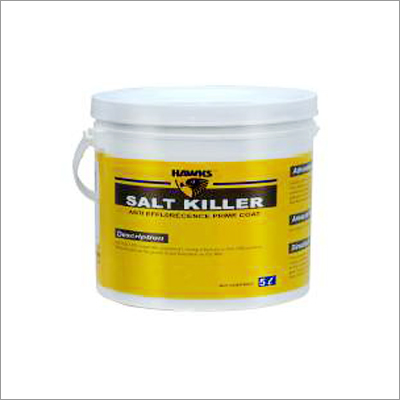 Prime Coat Chemical
Product Description
Anti Efflorescence Primer Coating is precisely formulated for giving fine adhesion, and great resistance to chemical and many other degrading matters. The compound is suitable to be used on surface of iron, aluminium, steel, and wooden. Convenient to apply & maintain, it is demanded worldwide in refineries, garages, and industrial plants etc. Having first-class bonding capability, it can be applied on cracks & dents. Last but not least, the Anti Efflorescence Primer Coating comes in several shades & amount packaging options to select from.
SALT KILLER : Anti Efflorescence Primer Coat.
ADVANTAGES : Salt Killer is especially pigmented coating which act as Anti-Efflorescence Primer and prevent the growth of salt formation on the wall. Excellent Physical barrier to Water transport. Chemical barrier to Salt Migration. Excellent substrate penetration & top coat adhesion. Long life high class appearance of top coat. It can be applied over concrete, plaster or brick masonry surface.
DOSAGE : 50-55 sq. ft per 2 coats/lit. with an addition of 30% water.
PACKING : 50oml, 1, 5, 10, & 20 Lit.
SHELF LIFE : 2 Yrs.