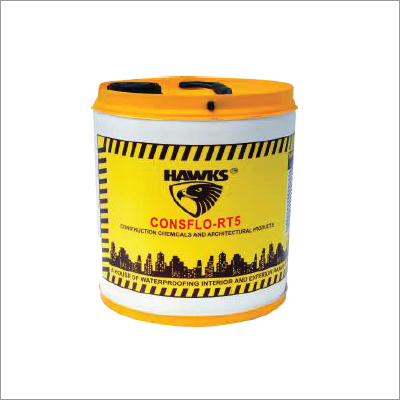 Set Retarding Plasticizer
Product Description
Set Retarding Plasticizer is a non flammable & non toxic chemical compound which is suitable to be utilized on concreted surface, floors, walls, terrace, and varied other applications. This is very effective and powerful enough to help avoid moisture, rain water, etc. It is totally environmental friendly, and has precise pH value & good shelf life, as it is formulated & processed from Grade-A ingredients with advanced methodology by following set quality standards. The Set Retarding Plasticizer is provided into sealed plastic bucket of various quantities to select from.
CONSFLO-RT5 : Set retarding, Plasticizing water reducing compound. (Complies with IS: 9103-99)
ADVANTAGES : A dependable and proven set retardant, which delays the initial setting of concrete / cement up to 240 minutes from the normal initial setting time. Reduces the tendency of last set, allows more transit time for ready mixed concrete in addition to these, the great advantages of concrete plasticizer like improvement in the workability. Reduction of water cement ratio can be achieved. Ideal to use for batching mix plant, ready mix concrete at high elevations etc.
DOSAGE : 20 to 40 ml. per Bag of 50 Kg. Cement depends upon the requirement of setting time.
PACKING : 10 & 20 Ltr.
Shelf Life : 2 Yrs.