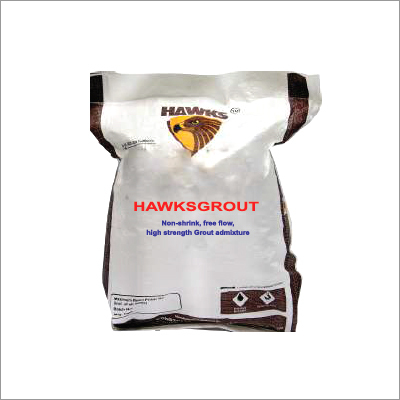 Shrink Grout Admixture
Product Description
HAWKSGROUT : Non-shrink, free flow, high strength Grout admixture.
(Complies with 8.3. 1881 part 1161983)
ADVANTAGES : Highly compensates for shrinkage which impact controlled expansion in the plastic state. Increase flow ability and produces high ultimate strength, for easy injection grouting for crack also cement. sand grout for injection into concrete structures through nozzles. Even as water is reduced around 10 to 15%, the strength of the grout increases. Mix admix with cement in dry condition followed by addition of mixing water continue mixing for 1-2 min. to a smooth consistency. Once the grout is made, the grout should be used within 3omin. from the time of production.
DOSAGE : 250 gms per Bag of 50 Kg. Cement. For cement & sand grout: 1-2kg. per bag of 50 kg.
PACKING : 20 kg.
SHELF LIFE : 2 Yrs.