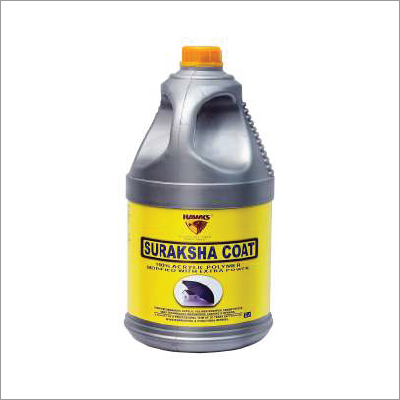 Suraksha Coat
Product Description
SURAKSHACOAT : High elastomeric acrylic polymer latex Cementitious waterproofing systems.
ADVANTAGES : Excellent waterproof coating with tough, hard abrasion resistance, Excellent elastomeric properties allows breathability of coating & resists cracks formation. High resistant to fungus and algae formation. Can be mixed with grey/white cement strainers also to provide excellent bonding between old & new concrete, Mortar work. Ideal to use as an admixture to mix with concrete/ mortar for crack Filling, Tile Fixing, repair works, Grouting etc. Can be used as a passivator coat to protect the steel reinforcement. Recommended for Roof gardening, Swimming pools, Terrace, Water tanks waterproofing etc.
DOSAGE : Surface coating : Surakshacoat- Part 1 Ltr. + Cement 2 kg. + Sufficient water for paint like consistency mix.
PACKING : 500ml, 1, 5,10 & 20 Ltr.
SHELF LIFE : 2 Yrs.