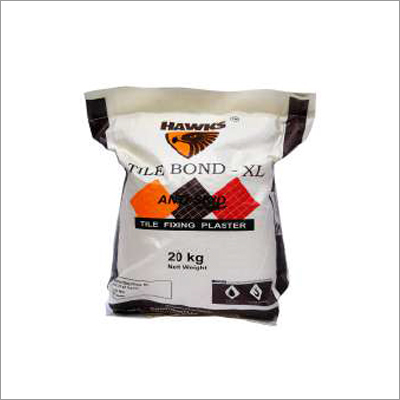 Tile Fixing Plaster
Product Description
Tile Fixing Plaster that we are putting forward is designed for fixing tiles perfectly on walls and floors. This kind of plastic requires only clean water to mix perfectly, and then put between the gaps of tiles that ensure beautiful appearance, excellent strength, stability and reliability to the tiles. It is applicable for both, cemented and concreted surface due to its high purity and perfect composition. The Tile Fixing Plaster comes in the HDPE bag packaging of 20kg amount.

ADVANTAGES : Soaking of Tiles is not essentially needed. Tiles directly from box can be fixed on desired surface, minimizing possible breakage & labor cost on soaking. Curing is not required as TILEBOND-XL is self curing. Hacking or roughing of surface to be tiled is not necessary. TILEBOND-XL waterproof the entire surface applied upon.
DOSAGE : 20 kg. Bag would cover 50-55 sq.ft.
PACKING : 20kg. SHELF LIFE : 1 Yrs.