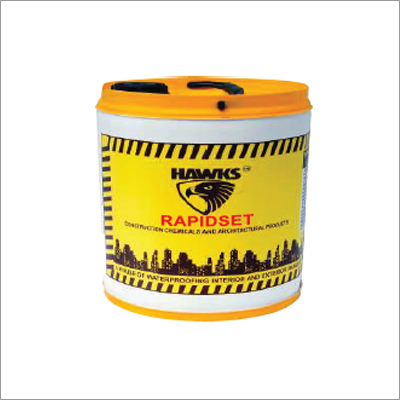 Waterproofing Compound
Product Description
RAPIDSET : Quick Setting, Rapid Hardening & Waterproofing compound. (Complies with IS 2645-2003)
ADVANTAGES : Quick setting & Rapid Hardening. Improves the ultimate crushing strength of concrete & consequently improving durability & resistance against heavy loads / Anti wash, concreting can be continued at freezing temperature, renders concrete floor dustless & oil proof. Recommended for emergency repairs under water foundation, Industrial flooring etc.
DOSAGE : 1 Lit to 3 Lit. per bag of 5okgs. cement depending on the setting time required. Generally recommended dosage 1 Lit. per bag of 50 kg. cement.
PACKING : 10, 2 & 200
Ht Shelf Life : 2 Yrs.