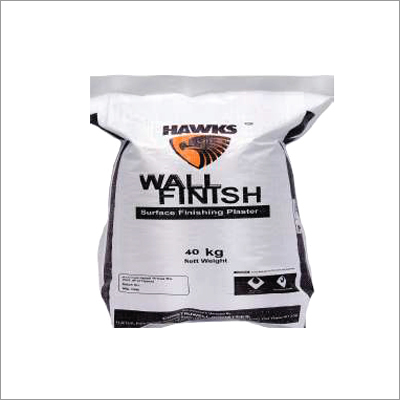 White Cement Based Economy Finishing Putty
Product Description
White Cement Based Economy Finishing Putty is non-toxic, free from bad smell, environment friendly, water proof and highly stable. It is used on walls before applying distemper for guaranteeing superb surface finish and appearance. This type of putty effectively fills the gaps, and finishes uneven surface due to its high opacity. It is diluted with a little water to make it application on wall easy. Moreover, the White Cement Based Economy Finishing Putty is provided into high strength plastic bag of 40kg amount at economical prices.

ADVANTAGES : Wall Finish is a White Cement based thin layer wall putty for use on walls & ceilings. It is pre-mixed white powder for smooth finishing, crack free water resistant coat can be applied over cement plastered surface. It is designed to bond any cement based surface. It is water resistant hence wall finished plaster with stands dampness, moisture and is suitable for using indoor & Outdoor curing is recommended.
COVERAGE : 250-300 sq.ft per 2 coats/40 kg. depending up on surface smoothness
PACKING : 20 / 40kg.
SHELF LIFE : 1 Yrs.